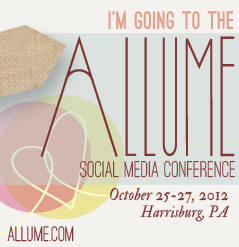 In just 18 days (eek!) I am going to the
Allume
blogging conference!! I am SO excited to learn how to grow my blog, meet some of my favorite blogging friends and have a weekend away!
So even though most of my regular readers are familiar with me and
my story
. I thought I'd give the quick version to those of you visiting my site for the first time from the Allume newbie link up.
My name is Stacy. I'm 29 and live in Ohio. I'm not married and don't have any kids...although I've been a nanny for 12 years and have raised many kids! I have an undergrad degree in sociology and a master's degree in journalism and communications. I had planned out of grad school to work in public relations and did very briefly but my health prevented me from working full time. I have had severe chronic pain and fatigue since I was 11 years old. And was finally diagnosed in 2006 with fibromyalgia. I now primarily work from home as a virtual assistant and still nanny occasionally too.
Living with constant pain for so many years has been more difficult than I can put into words but I also have seen great blessings, lessons and closeness in my walk with God come from this deep pain. So on the last day of 2008 I started this blog to share my journey of pain and faith. And then in August of this year, I began to sense God making changes to my site and the growing ministry here. So on August 31st, I launched my "new" site- a contributor site. Along with still sharing my story,
which includes some amazing answers to prayer and what I believe is the start of healing,
I also have several regular contributors who are sharing their stories as well. Our contributors are Christian women who
share their stories of living through a wide variety of challenging circumstances. We share our stories to give voice to what we've gone through, to share the lessons God has taught us, to glorify God for carrying us through and to encourage other women in similar circumstances to seek God and persevere through their pain. My goal here is just to create a safe place where women can connect. Where they can realize they aren't alone. A place where you can be honest about where you've been and what you've gone through. And a site where you walk away feeling encouraged and inspired in the midst of pain and struggle. This site is a place that proves that beauty does rise from ashes!
So to my fellow Allume newbies and returning attendees I look forward to meeting you soon. Be sure to leave a comment with your site link so my readers and I can get to know you and your site better.
See you soon!
Stacy
About the Author: Stacy Williams
Stacy lives in Central Ohio. She loves Jesus, traveling, the ocean, ice cream, seeing God answer prayer and encouraging others! She has a Bachelor's degree is sociology and a Master's degree in journalism and communications. She briefly worked in public relations before a chronic health condition since childhood forced her to change her plans and yield to God's plan. She is the Creator of Finding Purpose in the Pain. Check her out on Twitter and Facebook!
Don't miss any of the new posts at Finding Purpose in the Pain. Subscribe by email above by putting in your email address where it says follow by email, like us on facebook or follow on twitter!